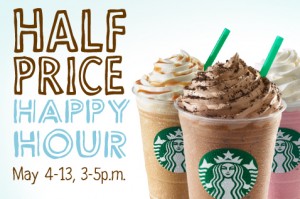 Nothing like an afternoon treat from Starbucks to make my day sweeter!
From May 4-13 between 3-5pm stop into your local and enjoy a Half Priced Happy Hour Frappuccino!
There are thousands of ways to customize your Frappuccino blended beverage.
Set your imagination free and follow your taste buds to create the Frappuccino blended beverage you're craving.
Mocha Coconut Frappuccino is my absolute favorite, but I also enjoy the Caffé Vanilla, Mocha Cookie Crumble Frappuccino and Strawberries & Crème Frappuccino.
OK, I'm yet to meet a Frappuccino that isn't delicious!
Enjoy a Frappy Hour at a Starbucks near you!
It's Half Priced Happy Hour Frappuccino at Starbucks
Cheers ✧
✦ Emma
More Related Offers: