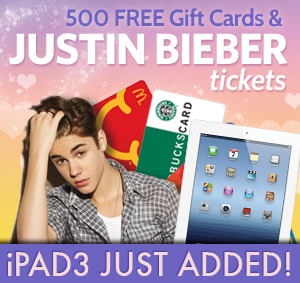 iPad 3 + 500 FREE Gift Cards
Want an iPad 3? How about a free gift card? From June 21st-30th, we'll be hiding 500+ prizes on our site! All you have to do is read through our recent posts, and if you're lucky, a gift card or golden apple will pop up after 10 seconds. By the way, if you win a gift card, we'll let you choose which gift card you want to win* (Starbucks, CVS, McDonald's and Dairy Queen.)
Win Justin Bieber Concert Tickets
Know any Justin Bieber fans? Well, we have your ticket to becoming the coolest mom/aunt/neighbor ever! We're giving away two concert tickets for any city on his 'Believe' tour.
From June 21st-30th, we'll be hiding 'Bieber ballots' around our site; each one is worth one entry into our  final draw. On July 3rd, we'll randomly select a winner who will receive two concert tickets for the city of their choice.
For more information, check out our FAQ and Tips and Tricks guide.
*Gift Card Selection subject to prize availability.
Update: Currently there are prizes hidden!
NEW HINT: We just made the iPad3 easier to find; look in posts from June!:
This contest is now over. Looking for more great chances to win? Click here for more Sweepstakes
More Related Offers: