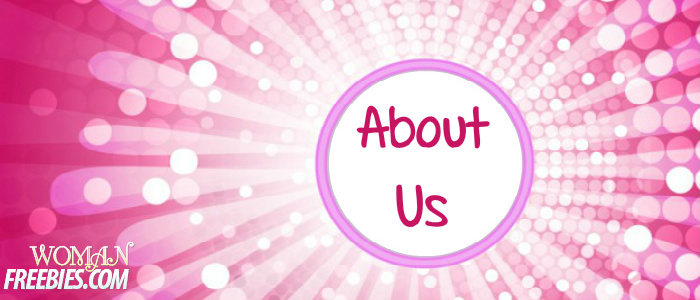 Hello Friends,
We are the WomanFreebies.com Team – Welcome to our site!
Our Motto: "You work too hard for your money to throw it all away on full price when you don't have to!"
The WomanFreebies.com Team are a fun group of eclectic individuals who love everything FREE! From samples to trials, giveaways to sweepstakes, coupons to great deals – we LOVE it all!
If saving money and getting the chance to try before you buy sounds like your kind of thing, join us and start saving! Membership is FREE (of course) and everyone is welcome. WomanFreebies.com is our name because we started as a group of ladies, but we don't discriminate – we have lots of male fans! We're on Facebook Twitter, Pinterest & Google+ now too!
Name: Emma
Google+
WomanFreebies.com Facebook
See all posts by Emma

About Me:

Hi my name is Emma. If you've ever dropped us a message us on our main Facebook then we may have already met. For everyone else – Hello! I've been with WomanFreebies since the start and finding free samples and deals is what I do best. It's a lot of fun and sharing them is even better! My mission is to help you get as much for free as I can! It's amazing how much money I save every month just by taking the time to find where the deals are and using my coupons. I hope you enjoy what we do because I absolutely love it. Cheers!

Favorite Way to Save:

My Paid Survey cash & Gift Cards! So handy for Birthdays.

Favorite Free Samples:

Garnier, Pantene, P&G and any perfumes, perfect for the purse.

Coolest Item I Got for Free:

a hamper of Pantene Full & Thick Hair Care Products for Fine Hair

Favorite Stores & Brands:

Walmart, Target and DSW. I might have a shoe problem.


Name: Sarah
Age: 25
See all posts by Sarah

About Me:

My name is Sarah, I'm 25 years old and I LOVE everything about fashion, fitness, travelling & entertainment. I may sound like a girly girl which I most definitely can be at times… But I really am the type of person that enjoys every aspect of life and making the best of it! I love being outdoors at my family's cottage as much as I love the big city life & dining with my amazing friends. My interests tend to cost me quite a bit of money, SO that's why I am always keeping my eyes peeled for the best coupons, free samples, sweepstakes and GREAT DEALS that so many brands have to offer. It's amazing how much money I save every month just by taking the time to find where the deals are. I also use the coupons from some of the other women on this site when I go grocery shopping. I hope I can help all you ladies find amazing savings so that you can spend your hard earned money on things YOU want in life!

Favorite Way to Save:

Perfume Samples 🙂

Favorite Free Samples:

Burberry Body Perfume – it smelled incredible!

Coolest Item I've Won:

recently I won a HUGE Corona freezer

Favorite Brands:

I love Victoria's Secret – so much nice clothes!

My Saving Story:

I went on a shopping spree when I found out about 25% off at Coach!

Name: Deidre
Age: 25
See all posts by Deidre

About Me:

Hey! I'm Deidre and I love shopping, entertainment, competitions, and freebies.I currently live with my hubby, two wonderful kids, 4 and 2, and our dog Lexi.When I'm not around my family and friends, I'm online.I love finding deals and sharing them with everyone. Whether its a competition to a tropical getaway or a freebie or a coupon. I love knowing I help someone save money or maybe even helped them win a trip. Everyone in my family has benefited from my findings at one point or another even Lexi.

Favorite Way to Save:

Food Samples & Perfume Samples!

Favorite Free Samples:

Dove Hair Care – I use it regularly now 🙂

Coolest Item I Got for Free:

Tickets to a huge music Festival!

Favorite Brands:

Pantene Pro-V, I love all of their products!

My Saving Story:

Grocery Coupons! They save me so much money on my grocery bill 🙂

Name: Caitlin
Age: 19
See all posts by Caitlin

About Me:

Hi Ladies! I'm Caitlin, I am 19 years old and I love everything about fashion! I'm going into my second year of University and loving every second of it. I'm always searching the latest and greatest styles (and deals) and I love sharing them with you! Being a college student means I'm a pretty frugal shopper, so the freebies and coupons really help me out! I have two adorable dogs, Tucker and Tasha (that's a picture of Tucker – a Shih Tzu Maltese Mix) and they mean the world to me. I love going on walks with them and my boyfriend and stopping for Bubble Gum Ice Cream (yumm!).