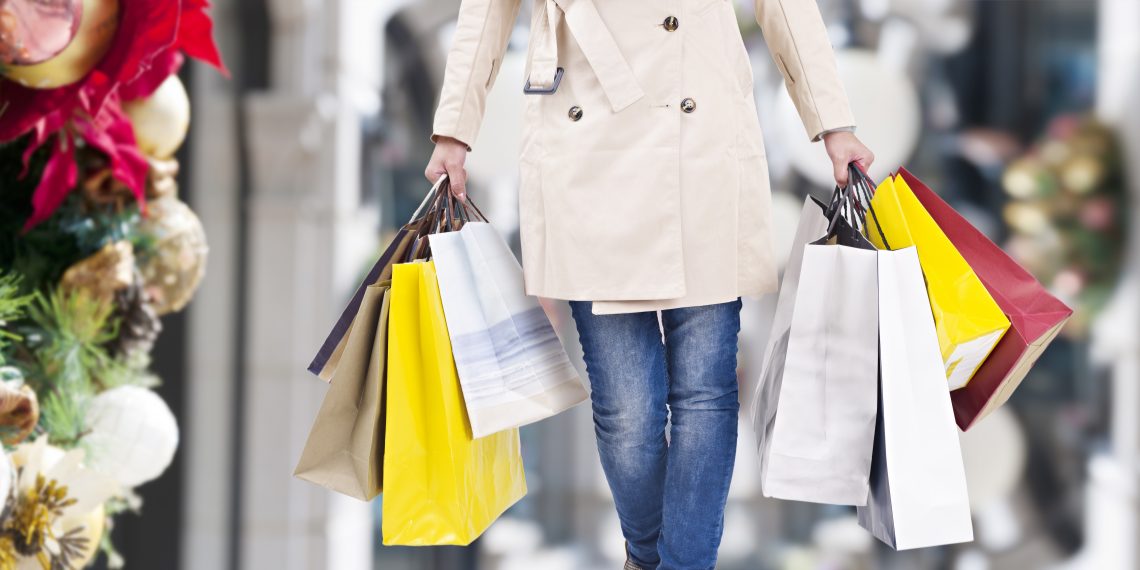 woman walking with shopping bags with christmas background.
The wind is colder, the nights are longer, and shops are now slowly bringing out their holiday decors. There's no denying that the holidays are just knocking right around the corner. And despite all the challenges the pandemic has brought, families would love to keep the holiday cheer bright. But all those celebrations and festivities may also come at a cost. If you're not careful, they may have you racking up the holiday debt.
Think about the family members and friends you have to give gifts to. The longer your list, the more expensive it can be. This is why you have to be a smart and savvy shopper. Yes, you can still complete that list without crying through an expensive bill later on.
You can make holiday shopping friendlier on your wallet by following these four tips to score great deals:
Shop During Sale Season
Before the holidays are in order, Black Friday is soon underway. Then, there's also the clearance and end-of-season sales you have to look out for. It's never too early to shop for Christmas! In fact, many savvy shoppers like shopping months before or whenever they go to a store and there are good deals on clearance.
As soon as you're done with the holidays for 2021, it's a signal for you to keep a list on your planner for your holiday gifts for 2022 and so on. When you have this habit, you can start shopping the whole year-round—whenever you find items on clearance and on sale. Black Friday deals are also great, so take advantage of that soon.
There's no shame in shopping the clearance aisle, especially when you have a long list of family and friends to shop for. Plus, taking it one sale season at a time also enables you to avoid the crowds and rush of Christmas shoppers during the Christmas season. When you have your gifts ready early on, you can also relax and take your time when wrapping your gifts.
Stick To Your Budget
Setting and sticking to your budget may seem like a no-brainer. But once you start the shopping process, you'll be surprised at how high your bill can instantly become. If you aren't careful, you can get excited with all the shopping that when you reach the counter, you're left reaching out for your credit card.
This situation can be avoided if you make it a point to stick to the budget you've set. As you accomplish a list, write down your budget limit beside it as well. Bring this with you when you shop so you're constantly reminded of the limit you should observe for every single individual on your list.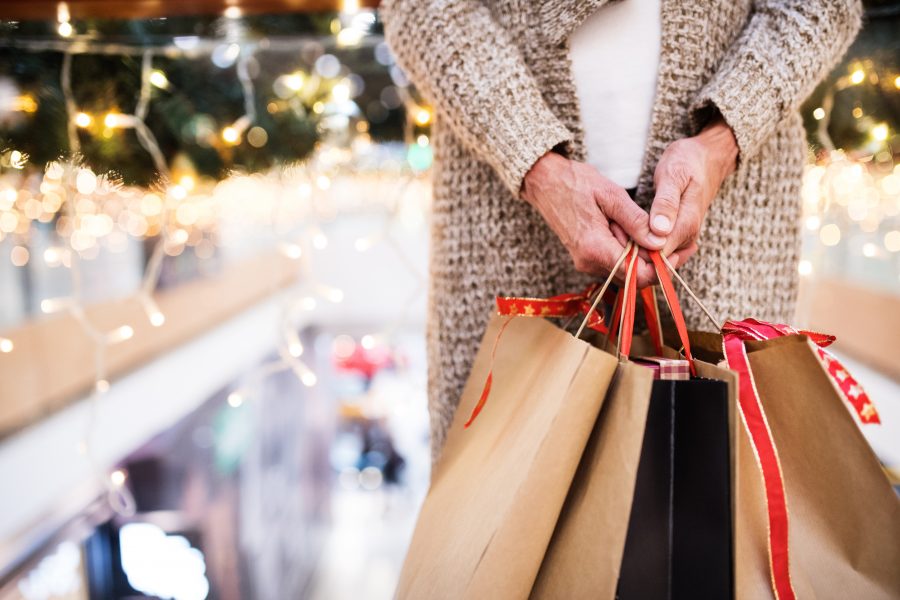 Unrecognizable senior woman with paper bags doing Christmas shopping. Shopping center at Christmas time.
Give Fewer Gifts
Before you start shopping, go through your list multiple times. Do you really need to give gifts to all those fifty people on your list? Perhaps you can cut it down to thirty for this year. Think of those people who truly matter to you, whom you have a close relationship with, and who deserve to receive a gift from you.
You don't need to give gifts to every single friend all the time. Remember that relationships and holiday gifting shouldn't only be based on physical gifts per se. If you can cut down your list without offending anyone, then go ahead. In fact, take note of this. No one should ever be offended by not receiving a physical, wrapped gift over the holidays.
Use Discounted Gift Cards
Gift cards are great gifts, too. Especially when you don't know what to get a certain person on your list, why not give a gift card? That way, they can go shopping for their gifts. The same is true especially for children. You wouldn't want to make that horrible mistake of gifting something that child already has.
Most notably too, gift cards allow you to score great deals when holiday shopping. Whenever you get the chance to visit department stores or big-chain grocery stores, have the habit of checking the gift card section. You might just be able to come across a discounted one.
For instance, you may be able to purchase a 25-dollar face value gift card for only 20 dollars. When you multiply those savings with the number of gift cards you're buying, you'll see the savings pile up.
Conclusion
With the practical tips above, are you now ready to start shopping for the holidays? As you can see, you can still complete your list and be a cheerful giver without draining your bank account. It takes planning and smart shopping, but it's always a worthy effort. You shouldn't have to worry about going broke over the holidays. You can still rock that holiday spirit and be merry and bright while bringing out your practical and financially savvy side.
More Related Offers: